Christmas in My Hometown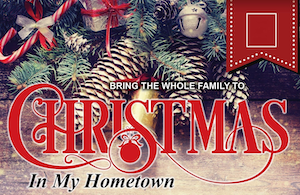 Welcome to our show: My name is Ron George and I am the show's Executive Producer. This year we are celebrating the 18th year anniversary of, "Christmas in My Home Town." From its debut, our show has become a wonderful holiday tradition. A variety show fashioned after the holiday specials of TV's early days, when stars were joined by their families in a cozy front room setting. "We are trying to re-create what we remember from the Andy Williams Christmas programs, that feeling of being invited into their home for a warm and cheerful holiday gathering"
Joining me onstage this year is, Emily Jessen, Zach & Aaron George, The Will C Wood Sylvan Singers and The Tintanabulus Hand Bell Choir, Christina Jacklin, The Dixon Dancers, Kim Bosler, Mike Williams. Alina's Music Studio Ensemble, Violin Empiriani
Planning for the show starts in July and from then until Showtime we are building sets, learning songs, adding new props to the show, and always trying to outdo our last performance. From the beginning, Christmas in My Home Town has been a family affair. My wife Sharron collects goodies all year to makes up all the Baskets that we raffle off, as part of our fundraising efforts. Our son Doug and his wife Julie, along with our daughter Rhonda and her husband George, help with setting up and tearing down the set, as well as helping their mother prepare the food to feed the cast members.
Our grandchildren Zach, Aaron, Megan, and our adopted Granddaughter Emily Jessen, not only perform in every show they also work side by side with us to bring the best show possible to our community. From the very first year, Christmas in My Home Town has been a labor of Love for the entire cast and crew.
Helping to keep music programs in place for future generations
Is our passion!!!!!
From our family to yours: Merry Christmas!
Funded in part by the City of Vacaville with funds received from the American Rescue Plan Act.
www.christmasinmyhometown.com